The device meets the requirements of Technical Conditions 3412-043-32574607-2005.
KTPV performance specification is given in table 2.10, KTPV critical parameters are given in table 2.11.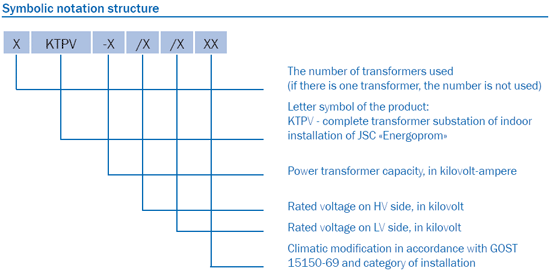 The example of symbolic notation of a two-transformer KTPV substation of capacity 630 kVА of rated voltage on HV side – 6kV, of rated voltage on LV side - 0,4 kV, a type of climatic modification U3:
2KTPV-630/6/0,4 U3

Operation conditions
Regarding influence of environmental climatic factors, KTPV corresponds to climatic modification U, category of installation 3 in accordance with GOST 15150-69 and GOST 15543.1-89 (temperature from minus 25 up to plus 50°С).
Environment is not explosive, not containing current-conducting dust, aggressive gases in the concentration destroying metals and insulation. Type of atmosphere - II according to GOST 15150-69. Regarding influence of mechanical factors, it corresponds to group of operation conditions M6 in accordance with GOST 17515-72.

Design
Structurally KTPV consists of:

High voltage input device;
Power transformers;
Low voltage switchgear 0,4 kV;
Account boards;
Bus bar bridges.
The general view of KTPV is shown in figures 2.12, 2.13, 2.14.
High voltage input device represents a metal enclosure of closed modification in which, depending on the circuit, load-break switch of VNA-6 (10) U2 type with fuses of PKT‑6 (10) U3 type or any other load-break switch with similar characteristics can be installed .
For maintenance personnel safe work, power bus lines going from the high voltage input device to the power transformer are placed in a box, fixed to the high voltage input device lateral wall.
For localization of the arc caused by short circuit in the high voltage input device, in the roof of the device a window, in which a voltage release valve is fixed to bending loops, is provided.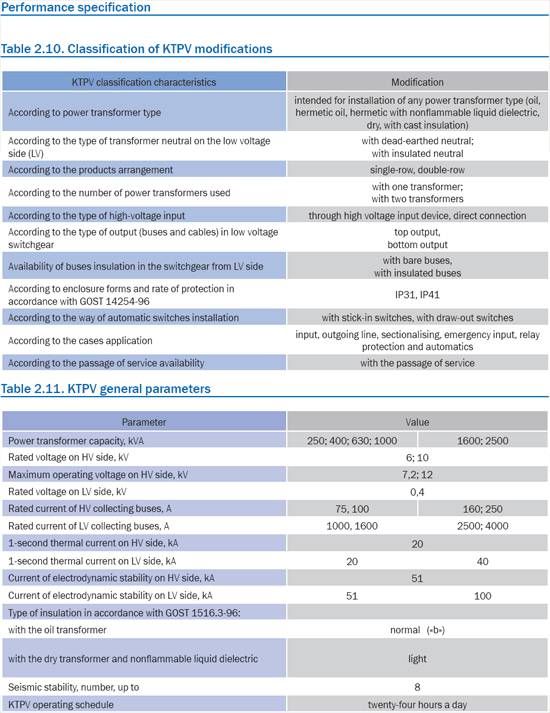 With dead connection of the transformer power cables are laid in the protective box (by special request). The box design is determined by the transformer type.
The low voltage switchgear 0, 4 kV is constructed of:

low voltage input cases;
outgoing lines cases;
sectionalising case;
low voltage emergency input cases;
relay protection and automatics cases.
As power switches in KTPV the following devices of move-out and stick-in modifications can be used:

switches of VA series of JSC "Kontaktor" (Ulyanovsk) for currents from 100 up to 1600 A;
switches of VA series of JSC "DZNA" (Divnogorsk) for currents from 100 up to 630 A;
CompactNS switches of "Schneider Electric" for currents from 100 up to 630 A with electronic protection blocks installed;
MasterpactNT switches of "SchneiderElectric" for currents from 800 up to 2500 A with electronic protection blocks installed;
DMX switches of "Legrand" for currents from 800 up to 2500 A with electronic protection blocks installed, and also power switches with similar characteristics of other manufacturers.
On the doors of power compartment cases control, indication and measuring devices are installed.
In busbar compartment there is power transformer input, collecting buses, branches for cable and bus bar connections, current transformers, power assemblies for outgoing cables connection. Backbone buses are fixed with cleats.
In KTPV the electric and mechanical interlocks providing the maintenance personnel safe work are made.
In the high voltage input device of KTPV the following interlocks are provided:

earthing blades interlock with the working blades, preventing load-break switch on, with earthing blades closing, or earthing blades closing with the load-break switch working blades on;
interlock preventing the high voltage input device doors opening with the load-break switch on and preventing the load-break switch closing with the device doors open;
interlock between load-break switch earthing blades and input automatic switch of voltage up to 1000 V, preventing voltage supply from cases of voltage up to 1000 V through the transformer to the closed load-break switch blades.
The main circuits diagrams of the high voltage input device and low voltage switchgears are shown in figures 2.16, 2.17.
In two-transformer substations ASA circuit can be made both with the use of electromechanical relays, and with the use of Zelio microcontroller of "Schneider Electric", microprocessor blocks of BMRZ-0,4VV and BMPA series of JSC "Mekhanotronika".
The account of active and reactive electric energy is realized by counters of any manufacturer. Account boards can be fixed to the low voltage switchgear lateral walls or the wall of KTPV premises.
The advantages of KTPV of JSC "Energoprom" are the following:

The cases design provides simplicity, convenience and safety of access for check, adjustments, maintenance of blocks and devices.
The cases design makes it possible to use devices of any manufacturer as power switches.
All power bus lines connections are welded, thus providing reliable connection and reduction of transient resistance. The modification with bolted connection using lubrication is also possible.
In the control circuit, outputs to telemechanics are provided.
In KTPV a two-way information interchange with automatic control system and computer through standard communication channels is possible.
A possibility of the electric power account both on inputs, and on outgoing connections.
For transportation of switches of more than 30 kg, a carriage is included into KTPV complete delivery set by request.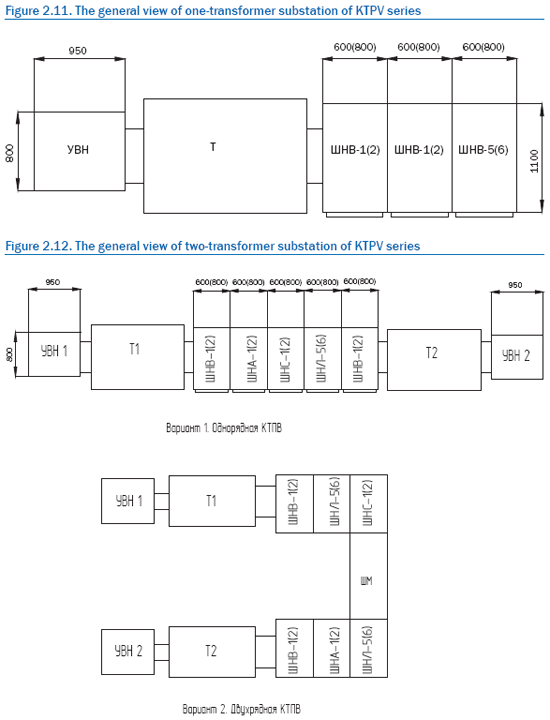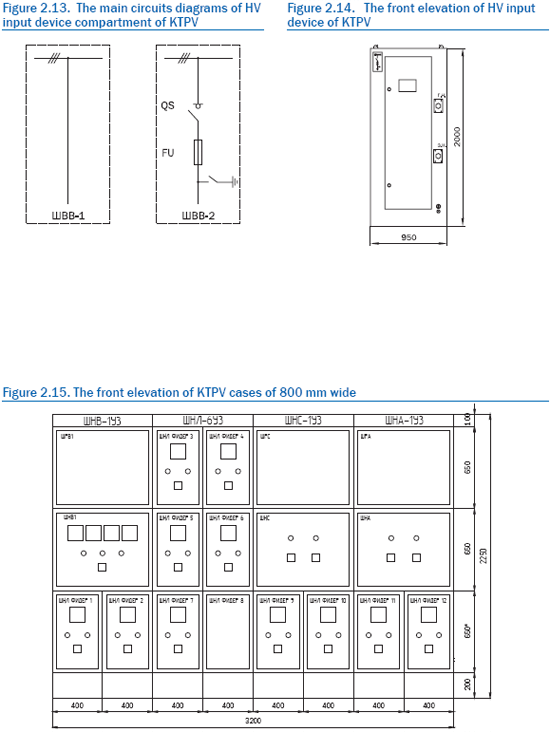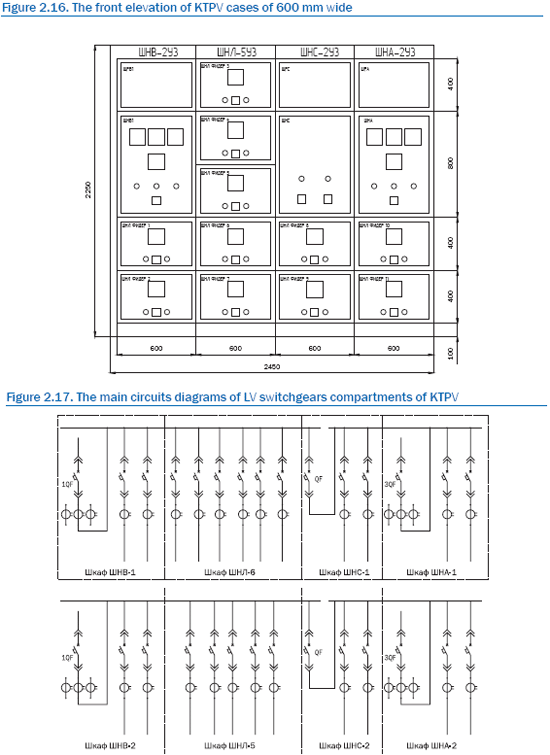 Смотрите также > Блок-боксы типа 2БКТП-Э с КТПВ и НКУ