SCA are intended for the commercial account of active and reactive electric energy of alternating current of 50 Hz frequency and voltage up to 10kV in overhead transmission lines with an insulated neutral in the following cases:

on borders of power supply areas;
when shifting commercial account to 10 (6) kV side;
when connecting new consumers;
for revealing nonregistered electrical energy consumption.
SCA are applied in industry, agriculture and railway transportation electrification networks. They can be delivered both for the application in already existing networks, and implemented networks.

Operation conditions
SCA is designed for application in I-V wind areas and in I-IV glaze areas and mechanical effects at М2 level in accordance with GOST 17516.1-90. SCA is intended for operation in areas with a temperate climate for climatic modification – U and category of installation 1 in accordance with GOST 15150-69 and meets the requirements regarding influence of environmental climatic factors of GOST 15150-69.
SCA is intended for operation at altitude above sea level up to1000m. The protection degree of a high-voltage module enclosure and low-voltage module enclosure is not lower than IP54. All metal structures are made of materials covered by proper coatings to prevent corrosion during all service life - 25 years. The contents of corrosion-active agents are in accordance with GOST 15150-69 for atmosphere of type II.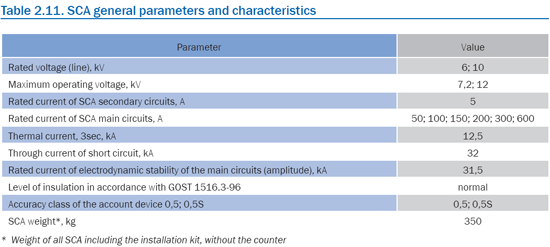 Design
Structurally SCA consists of high-voltage module with built-in current and voltage transformers and low-voltage module with built-in account device. For high-voltage and low-voltage modules connection a special connecting cable is used.
The high-voltage module represents a metal enclosure with through insulators, inside which 2 voltage transformers of NOLP type, 2 current transformers of TOL type, and also overload suppressors of OPN-RS (OPN-P) type are located.
The low-voltage module represents a metal enclosure with the lock, inside which the account device (by request of the Customer) is located. In addition, in a low-voltage module the information transfer device for remote account device readings can be installed.
Designs of SCA cases provide grounding, by means of which low-voltage and high-voltage modules are connected to the grounding device of power transmission pole.
SCA cases modification provides the possibility of examination, repair and dismantle of primary equipment of the high-voltage module, when overhead transmission line isn't alive, and all necessary safety precaution actions.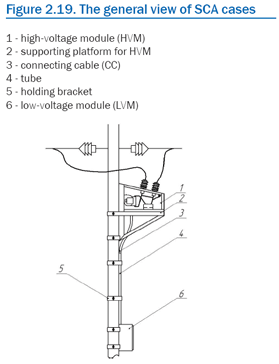 Ordering
For ordering it is necessary to fill in an appropriate questionnaire and send it to JSC "Energoprom".